Lotana's
New To This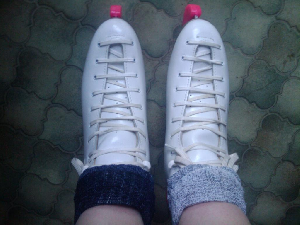 I have recently (in the last week) decided that it's about time I got myself into a bit of a better shape. Technically there's nothing wrong with the shape I'm in now, my other half quite likes it to be honest, but I'm not so happy with it so I'm trying to do something to change it.
The first thing I have started to do - which I have been doing for well over a week but I'm really pushing myself now - is Ice Skating. I used to skate years ago, before my major car accident, and I decided it was about time I brushed off my skates and got back onto the ice. It was terrifying. After all that time being away from the ice, having had to totally re-learn walking, I looked like Bambi without being nearly so cute. If you've ever seen a duck on the ice, that's what I looked like. It's good fun, skating, and it makes for brilliant Cardio Vascular exercise as well as being good for your core muscles, thanks to spending so much time trying to keep balance. I skate with my finance and he's very good about making sure I'm doing alright, as an Ice Hockey professional I would be most annoyed if he didn't help me out a bit! Though he does spend a lot of his time 'orbiting' me because he finds it hilarious. So I ice skate. I have my own skates (see the picture) from when I used to skate and I was surprised that they still fit, but glad of it because they were expensive.
If you want to get some exercise in that doesn't much feel like exercise I would really recommend skating. It's more fun than it first seems to be and it works you out a lot more than you would think. You meet a lot of people on ice rinks as well, usually in my case when I'm crashing into them! It's well worth giving a go.
The other way that I'm trying to get back into shape is by making use of a piece of equipment I bought as part of my physio. It's called a Resistance Ski Glider and it's like a cross trainer but it requires less bending of the knees so it's not nearly so painful while still being a great work out. I use it mostly for cardio at the moment but once I get better at that I will be able to start interval training and use it to work my arms and shoulders as well. It's a daunting task to push my body so much further than I am used to but it's a lot of fun as well. I have a few friends who make sure that I do go to the rink at least twice a week (as well as the other half who will go regardless of me going) and who also remind me every day to get my ass on the glider and work for a while. It's not easy getting into the shape you want to be, but I'm pretty sure that it's worth it!
Tags:
1 user(s) like this
Comments
Add your comment
You must be logged in to leave a comment.