Lotana's
Bath Spa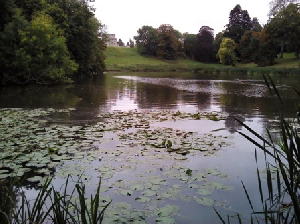 I am a university student and I spend a lot of my time on campus, and I'm so glad that I chose this campus to work from. As well as being a great university, it's a beautiful place to spend any time because there are literally hundreds of things to see. I've been here for almost two years now and I still don't think I've walked everywhere yet. Not only is there a large lake on campus which is just stunning early in the morning but there is a woodland almost completely surrounding us with paths winding through it in every direction. You can get to almost every class via the woods, and when you're stressed as hell with class work and jobs and everything else it's great to just take a moment out and take a walk.
The grounds aren't the only nice thing about being here though, the buildings are something to behold. Most of them are Cotswold stone which makes them really nice to look at and reminds you of the long history of the place. Bath Spa campus was originally just a country house which was then bought by a whiskey manufacturer before becoming a college for educating ladies in the ways of teaching. Some of the buildings are obviously newer and there is more construction going on at the moment but none of the old buildings are being taken down so the campus won't lose all of its rich history. There's even a 'castle' on campus that I have some of my lectures in.
I'm not a great fan of architecture so one of the things that drew me to the campus was the animals. A lot of the surrounding land is farmland and so most of the time there are cows or sheep roaming around literally within reach of the main paths. They are nice docile animals and some of the cows will even accept a scratch on the head (though not many of them.) Occasionally they manage to escape from the fields and end up roaming the campus but that's not too much of a bad thing, not until one of them decides to wander into the library or stop for a nap in the road.
Even though it's technically a university campus I think I will keep coming back here once I have passed my degree just to walk around and calm myself down a little and take a break from the world. It is quiet in all the right places and if you want some time alone it's easy enough to just find a quiet spot by the lake, hidden by a tree where nobody knows you're there. I tend to hide away with a book on those days and read until I get hungry. Luckily the food on campus is really good!
Tags:
1 user(s) like this
Comments
Add your comment
You must be logged in to leave a comment.